Keep Fairburn Beautiful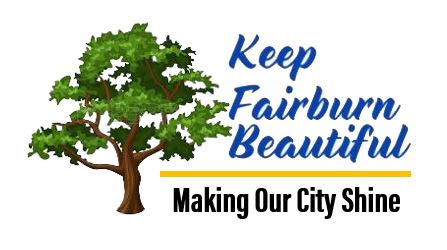 MISSION
To encourage public awareness and participation in creating and maintaining clean, beautiful, well-kept communities throughout the City of Fairburn.
VISION
We envision the City of Fairburn as a clean City with attractive neighborhoods and commercial corridors that will encourage and promote City pride.
TRANSFORMATIVE GOALS
Establish a public awareness program to enhance behavioral norms and promote community pride.
Establish a board of directors and platform for fundraising and corporate/community sponsorship
Establish Public-Private Partnerships related to local investment
Establish Local Regulatory Elements
NATIONAL AND STATE CORE VALUES
End Littering
Beautify Communities
Improve Recycling
Promote Community Pride
OVERVIEW
The City of Fairburn is addressing increased illegal dumping and littering onto various spaces and areas throughout commercial and residential districts. Problem areas are along highways and arterial roadways, which without mitigation, threaten economic vitality. Adding to the City's appeal is a drive to beautify the town's center, promoting the downtown Fairburn Historic Commercial District, promoting traditional assets for tourism and new businesses. Moreover, Fairburn offers unique charm, increasing the presence of arts and entertainment and attractiveness for the emerging film industry.


The creation of a Beautification Taskforce provides a framework to coordinate and implement initiatives to comprehensively address concerns that include establishing clean-up zones, special events, rewards and incentives, marketing and branding campaigns, and other efforts to enhance effectiveness.


A reporting team of staff convened, consisting of members from various City of Fairburn departments. Current staff representatives include:


Department of Community and Economic Development, Planning and Zoning
Building & Property Management
Police Department - Code Enforcement



Fairburn's Keep Fairburn Beautiful Task Force proposes to enhance its communities as clean, green, and beautiful environments through conservation of resources, smart land uses that eliminate blight, and showcase the city's parks.


The Keep Fairburn Beautiful Task Force will provide residents, businesses, governmental, and community stakeholders a framework for addressing the plethora of issues related to ending litter, reducing waste, promoting recycling, and beautifying communities.
COMMUNITY BEAUTIFICATION AMBASSADORS (CBA)

The CBA consists of representatives that are certified by the task force and assigned communities within their zone to maintain clean-ups throughout the year. CBAs are provided with equipment and supplies to ensure safety. Each CBA will sign a waiver releasing the City of Fairburn and its agents from liability.