Government Leadership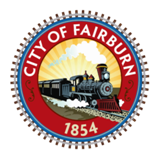 Welcome to the Office of the Mayor for the City of Fairburn. Our mission is to provide executive leadership, as well as set priorities and goals for the City and its neighborhoods. As Mayor of the Greatest Small City in America, my priorities and goals are to provide an environment to increase jobs and businesses, beautification, infrastructure rebuilding, and effective operations.
The city is governed by a council-manager form of government where the City Council sets city policy and the City Administrator is responsible for city operations.
The council consists of a mayor and six council members. All council members are elected for four-year terms.
Accomplishments and Awards