Fire Department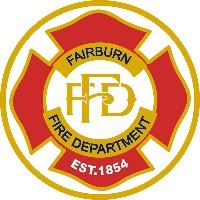 The Fairburn Fire Department is a fully functional career department. It began operation April 1, 2006. The Fairburn Fire Department consists of an Administrative Division, a Fire Marshal's Office, a Training Division, and an Operations Division.
The department is prepared to respond to emergency calls 24 hours a day, 365 days a year. In addition to fire suppression, the department provides first responder emergency medical services, vehicle accident extrication and fire, and life safety inspections and education.
Mission Statement
Provide a first class level of service and protection, and instill a sense of well-being in the community through service, education, and outreach.
Vision Statement
Fairburn Fire will cultivate a safer, healthier and active community through a partnership with citizens that are engaged, knowledgeable and prepared.
Values
Accountability
Commitment
Compassion
Diversity
Health and Safety
Integrity
Professionalism
Respect
Teamwork
Fire Station #23 Renderings
The City of Fairburn is excited to announce that the design phase for Fire Station #23 has been completed and the project is currently out for solicitation. Take a look at the day 3-D rendering of what the Fire Station will look like once constructed.
When camping, grilling, or having a bonfire, make sure that you check with the fire department for any restrictions on starting an open-air, recreational, or outdoor cooking fire. Obtain the proper permits, if required. Some places do not permit outdoor burning during certain seasons. Closely observe all outdoor fires, and make sure they are completely out before leaving. Open fires must be at least 50 feet away from anything that can burn. Recreational fires need to be at least 25 feet from anything that can burn. Avoid burning on windy or dry days. On these days, it is easy for the open burning to spread out of control. Where outdoor burning is allowed, never use gasoline or other flammable or combustible liquids. When burning, have a hose, a bucket of water, or shovel and dirt or sand nearby to extinguish the fire.
Plan and practice wildfire safety
Conduct outdoor burning safely and legally. Make sure-fire response vehicles can easily access your house. Talk to your neighbors and family about possible escape routes from the home by car and on foot. Make sure that fire emergency telephone numbers are posted.
Protect Your Home
It is important that you try to prevent fires from spreading around your home, by creating a 30-100 foot safety zone around your house. Rake and remove leaves, dead limbs, twigs and rubbish from around and under structures in this zone. You should regularly clean gutters and rough, and cut the grass.
Escape Safely
If you have to evacuate, you should do so immediately. Wear long sleeves, pants, gloves, and sturdy shoes. You should also have a rag or something to protect your face. Make sure you have a route planned out that is away from fire hazards. Tell someone when you leave and where you are going.
In the event of a lightning storm, you should seek shelter immediately. Once inside your home, avoid corded phones, computers, and other electrical equipment that put you in direct contact with electricity. Avoid washing your hands, showering, bathing, doing laundry, or washing dishes. It is important that you stay away from windows and doors. If you are not able to find shelter in your house, a car with a hard-top is your next best solution. If you're in/on open water, go to land and seek shelter immediately. If there is no shelter around you and you feel your hair stand on end (which indicates that lightning is about to strike) squat low to the ground on the balls of your feet. Place your hands over your ears and put your head between your knees. Make yourself the smallest target possible and minimize your contact with the ground. This is the last resort when a building or a hard-topped vehicle is not available.
If you have a barn it is important to maintain all equipment that is in the barn. Anything that is flammable (heat lamps, space heaters, etc.) should be placed on a sturdy surface that is a safe distance away from anything that can burn. Make sure that no wires are damaged, and do not use extension cords in the barn. Light bulbs should be covered to protect them from dust, moisture, and breakage. Dust and cobwebs should be removed from around electrical outlets. Outside of the barn, electrical work should be done responsibly. Electrical work should always be done by a qualified electrician. If you are doing electrical work outside, use a wooden or fiberglass ladder. You should always assume that all power lines are live, even if they are down. If you do touch a power line you could be injured or electrocuted. Some power lines are underground. You should call your local authority to have lines identified and marked before you start digging.