Utilities Department

Electric, Water, Sewerage & Sanitation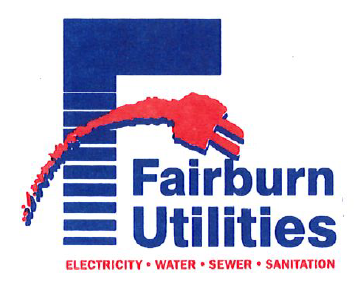 The City provides electricity, water, sewer, sanitation (refuse pickup), and services to most of its residential and business customers either directly or through agreements with outside contractors. Not all services are available in all areas. The US Postal Service may have assigned you a Fairburn mailing address, but this does not necessarily mean you reside within city limits. Learn more about the city limits of Fairburn with the Zoning Map (PDF). Please call Fairburn Utilities at (770) 969-3481 if you have questions about the new service. Also, learn more about the utility deposits, fees, and sanitation.
Application For New Service
Please visit City Hall at 56 Malone Street S.W. Fairburn, GA 30213 to start a new service or make payments on your account. Learn more and access the Application for New Residential Service: Online or Application for New Commercial Service: Online in Fairburn.
Energy Resource Center
Learn where your energy dollars are going. Energy Resource Tools available for use.
Online Utility Bills
Learn more about how citizens of Fairburn can pay utility bills online.
Toilet Rebate Program
Learn more about the Toilet Rebate Program
Visit the website
Low-Income Home Water Assistance Program
Learn more about the Low-Income Home Water Assistance Program (LIHWAP).