The City of Fairburn Invites Residents to Participate in the Spring Shred and Spring Clean-Up Day Events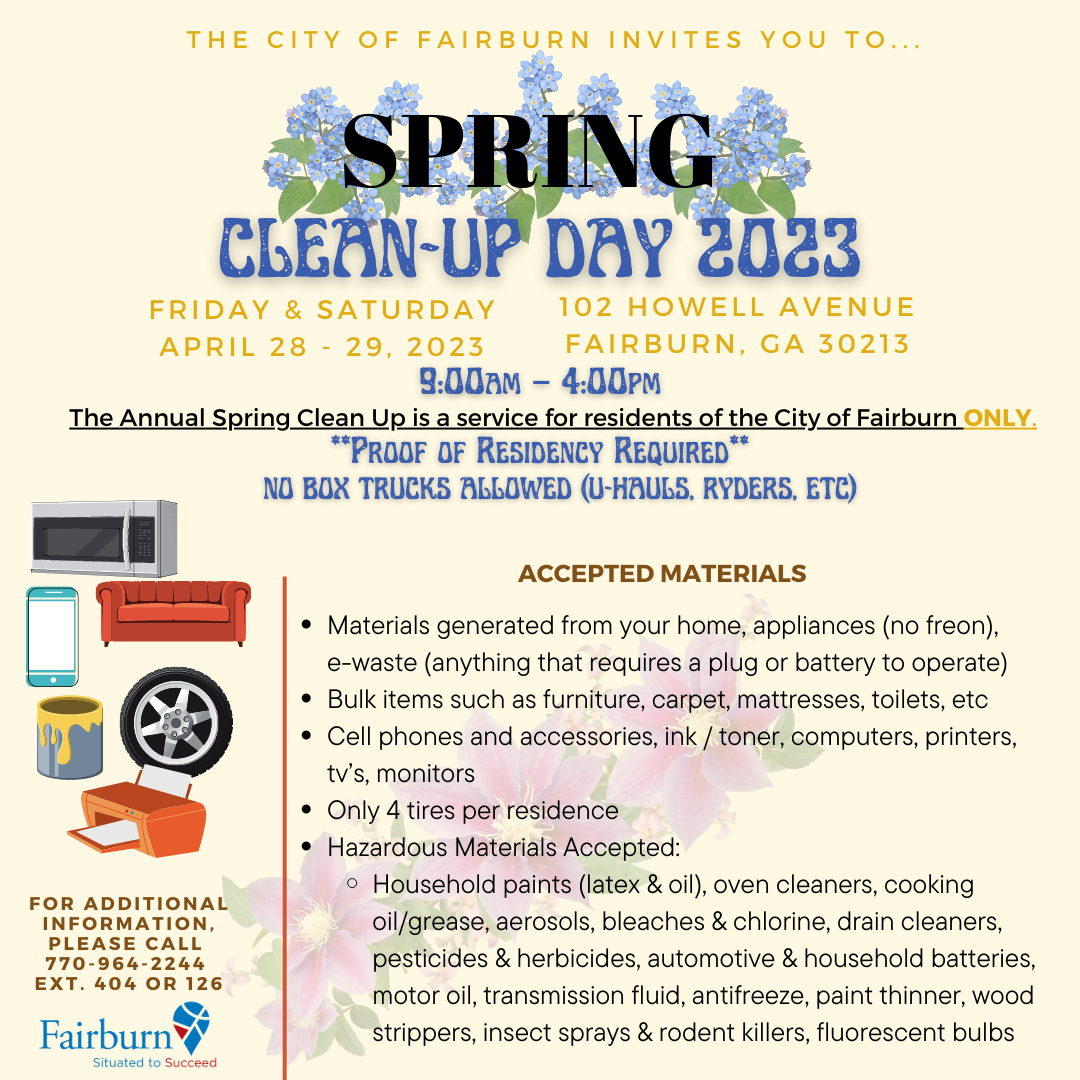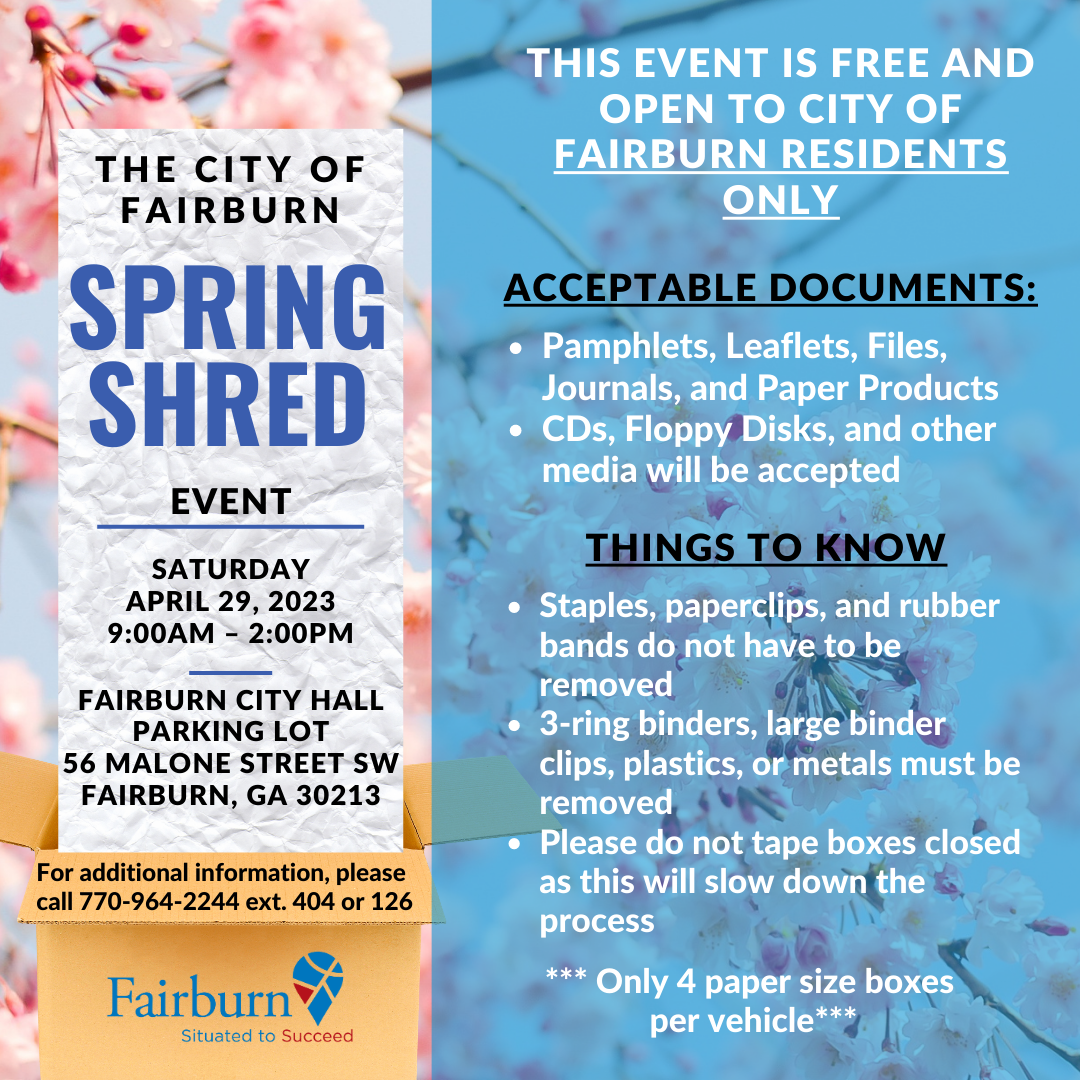 The City of Fairburn Invites Residents to Participate in the Spring Shred and Spring Clean-Up Day Events
The City of Fairburn has been very busy creating opportunities for the community to participate in clean-up events in the city. These events are important to the City of Fairburn and aim to help beautify the community while creating an opportunity for Fairburn residents to safely discard unwanted items from their homes. There is no better time to take advantage of the City of Fairburn Clean-Up Events than during Spring cleaning season!
During the weekend of April 28-29th, the City of Fairburn will be hosting two Spring clean-up events for residents. The purpose of these events will be to provide residents and families with an opportunity to reduce litter, trash, and clutter in and around their homes and community. While the City no longer allows residents to bring box trucks filled with items, residents will have several opportunities to discard various items from their homes and yards.
"I encourage every single one of our residents, community associations, and all of our neighbors to participate in these Spring clean-up events," said Mayor Mario B. Avery. "This annual tradition of Fairburn community members coming together to clean-up our city is more important than ever. Through teamwork and community commitment, we can keep Fairburn clean."
City of Fairburn residents are invited to participate in the following Clean-Up Events:
Spring Clean-Up Day 2023: Friday, April 28th & Saturday, April 29th, from 9:00am-4:00pm at 102 Howell Avenue, Fairburn, GA 30213. The Annual Spring Clean-Up is a service for residents of the City of Fairburn ONLY. Proof of residency is required.
Spring Shred Event: Saturday, April 29th from 9:00am-2:00pm at the Fairburn City Hall Parking Lot located at 56 Malone Street SW, Fairburn, GA 30213.
"While we work everyday to clean up the streets of Fairburn, this annual tradition is about teamwork towards making a long lasting impact on our city," said City Administrator Tony M. Phillips.
Multiple studies have shown that clean-ups are important for supporting tourism and local economies, protecting wildlife and raising public awareness of the threat of litter to both wildlife and communities. Prolific litter in communities and neighborhoods can misrepresent the area and contribute to health risks and low levels of self-image.
"Let's work together to keep our homes, city, and neighborhoods clean and welcoming for all," says City of Fairburn Street Maintenance and Fleet Director, Gale Higgs.
Spring Clean-Up Day 2023 Accepted Materials (Free & Open to City of Fairburn Residents ONLY):
Materials generated from your home, appliances (no freon), e-waste (anything that requires a plug or battery to operate)
Bulk items such as furniture, carpet, mattresses, toilets, etc
Cell phones and accessories, ink / toner, computers, printers, tv's, monitors
Only 4 tires per residence
Hazardous Materials Accepted:

Household paints (latex & oil), oven cleaners, cooking oil/grease, aerosols, bleaches & chlorine, drain cleaners, pesticides & herbicides, automotive & household batteries, motor oil, transmission fluid, antifreeze, paint thinner, wood strippers, insect sprays & rodent killers, fluorescent bulbs
Spring Shred Event Accepted Materials (Free & Open to City of Fairburn Residents ONLY):
Pamphlets, Leaflets, Files, Journals, and Paper Products
CDs, Floppy Disks, and other media will be accepted
Things to Know

Staples, paperclips, and rubber bands do not have to be removed
3-ring binders, large binder clips, plastics, or metals must be removed
Please do not tape boxes closed as this will slow down the process
For more information about the upcoming Spring 2023 Clean-Up events, visit www.fairburn.com or call 770-964-2244 ext. 404 or 126.