Newsroom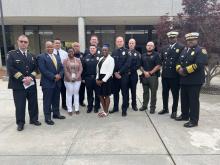 Mayor Mario B. Avery and Assistant City Administrator attends 2023 Public Safety Memorial Ceremony
The Jeff Cook Award for Safety Excellence is an honor awarded to municipal utilities departments that meet various criteria regarding safety in the workplace.
You may qualify for a homestead exemption (Senior Exemptions Do Not Apply Automatically) from City of Fairburn Property Tax.
Click the link to take a look!
Mental Fitness 21st Century Learning Inc. founder, John Childs, references the City of Fairburn as a programmatic starting point and Councilman James Whitmore as an avid supporter and champion.
Mayor Mario B. Avery served as Keynote Speaker for the Material in Motion's, also known as Google, first-ever Black History Month Program held for employees
Mayor Pro Tem Linda J. Davis Receives Certificate of Excellence from the Harold F. Holtz Municipal Training Institute!
IMPORTANT NOTICE: To provide the best service delivery, the Payment Window located at Fairburn City Hall has new hours. The drive-thru window and payment center inside of the building will close at 4:45 pm beginning March 1, 2023.
Because of the visionary leadership of our Mayor & City Council Members, and the dedicated, outstanding, and hard work of our Fairburn staff, the city of Fairburn has been awarded the "Most Improved City" award by the College Park Skyhawks. actually true!
Watch the City Administrator's address from the last City Council Meeting about the winter weather crisis in the City of Fairburn and the steps taken to support residents.